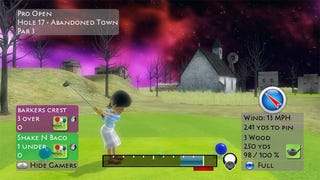 Of the independent games available on Xbox Live, a sports title is currently the No. 1 downloaded title and another is the No. 2-rated game, across all offerings. But sports is far from the service's dominant genre.
The action and adventure, puzzle and trivia, and shooter categories all have more than 100 listings. Sports, just 25. And this is just one measure. On the whole, sports are not a particularly fertile subject for indie developers, especially if one considers racing games a genre outside of sports.
Where do sports stand on the indie landscape? Does this indicate an opportunity for a developer? Or a strict barrier to his participation?
Moreso than other genres, "You're gonna get compared to the big boys," Matt Davis of Houston-based BarkersCrest Studios, says of the biggest drawback. Davis' Avatar Golf is the leading download (and Stick Jockey's independent sports game of the year) on Xbox Live, and he followed it up last month with the one-dollar, one-button controlled Home Run Challenge that's done well since its release.