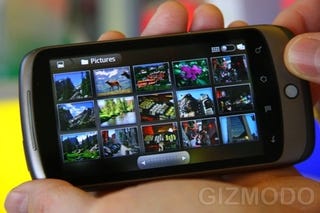 Google has officially unveiled its Nexus One Android Phone, and while it's certainly an attractive device, does it have what it takes to be a portable gaming platform?
The Nexus One is the first handset designed entirely by Google, and to some, particularly those with mobile service providers other than AT&T, it might seem like Google's answer to the iPhone. In some ways it is. It has the touch screen. It has an accelerometer. It's got the slim profile and the low weight. It can run a wide variety of applications, from office software to a Google Maps-powered GPS. It's an attractive package, but is it attractive to a gamer?
In my eyes at least, not so much.
While the Nexus One does have a faster processor and a larger, higher resolution screen than the iPhone 3GS, there are several shortcomings that will likely keep it from achieving even a fraction of the success the iPhone has had in the gaming sector.
First off, there's the operating system. The Nexus One runs version 2.1 of Google's Android operating system, an upgraded version of 2.0, making its debut on the new device. When Android-enabled phones were first introduced, several major players in the mobile gaming market took notice. Namco quickly got Pac-Man up and running, and Activision followed suit with Guitar Hero.