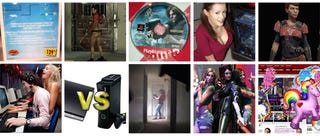 When 2009 is said and done, the Kotaku readership will have viewed the site more than 600 million times this year, an impressive mountain of clicks, comments and—based on this year's most read posts—lecherous gallery ogling.
Of the top ten most voraciously "read" posts, two feature Zoey from Left 4 Dead in various states of undress. The word "porn" appears in two headlines, the word "stripper" in another. Another features the highest concentration of unicorns we've ever seen on Kotaku. In other words, you guys are pervs who come for the steady stream video game coverage, but pounce on an opportunity to see a boob.
While many of our original reviews—Call of Duty: Modern Warfare 2, Borderlands—and features—Owen's on the Gamerscore obsessed and Fahey's on the Everquest obsessed—garnered heaps of attention, it's these posts, for better or worse, that outperformed everything else.