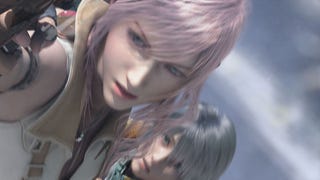 Well, I've played twenty-five hours of Final Fantasy XIII in the past few days, and the one thing I can say with confidence is that I sure have played twenty-five hours of Final Fantasy XIII in a few days.
I suppose I'm not "qualified" to write a "review" because I haven't finished the game, and that something enormous enough to change my opinion of the game completely might spring up in the final three seconds of the end credits. I'm neither a pessimist, an optimist, nor a realist when I say that I'm guessing this isn't going to happen. I'm just being me. For god's sake, if the first twenty-five hours of your entertainment experience are not at least 90% indicative of its overall value, then you're doing at least one thing terribly wrong.
To summarize the experience of Final Fantasy XIII, I would like to use
a personal anecdote
Once I'm done with this, we can go right into the talking-about-a-videogame part:
When I was fifteen, I played Final Fantasy VI. It was one of the better things I had, by that point in my life, ever experienced. Let me tell you how I got the game: I rented it, once, from a video store that had only one copy of it. I played it for an hour and fell into a mesmerized type of love. Then I fell ill with a terrible ear infection. My fever climbed to around 104 degrees Fahrenheit. Little did I know, I would be suffering these frequent ear infections for the rest of my life. I have Weird Ears. I have the same condition that made Beethoven deaf. They just didn't know, back in his day, how to stick a hypodermic needle through the eardrum to suck the blood out. Poor guy — he missed a chance to hear Beethoven's 9th before he died.
Well, with that ear infection all up in my stuff, I couldn't play the game. This was the precise shape of my torture: I lay there in bed, feeling underwater, and feverish, with severe head pain, thinking about Final Fantasy III (that's what we called it back then), in thatplastic case from our generic video store (this was before they built a Blockbuster right next door) lying on the floor, untouched. What terrible guilt it is, to rent a game and then not be able to play it! It's maybe worse than going to see a movie you really want to see and having to get up to do a deuce right as it's getting to the good part. The guilt, back then, tore me up about as badly as the ear infection tore me up.
The next week, I tried to rent it again. It didn't work. Someone else had the game. Damn it! The next week, the same thing. They said it was due back on Saturday, if I'd be willing to pick it up on Saturday. They said they'd call when it was in. They didn't call. I went in anyway. It turned out the previous renter was keeping it a couple more days. Those couple days would turn out to be a couple of, like, groups of seven days.
Eventually, a minor department store chain called Kohl's hilariously featured Final Fantasy III in their Sunday flier despite their actually not selling games at any of the locations in my town. They said it was $52.96. What a weird price! At Electronics Boutique (that's what we called "EB" back then), it was $79.99, though they also promised to do the price-match thing. I had $48 saved up. I took in a bunch of old NES games — Teenage Mutant Ninja Turtles The Arcade Game was one of them — and prayed that they would amount to at least six dollars. They did. I took Final Fantasy III home that Sunday evening. Of course, I went to bed early, so I could go to school the next day.
In last period of the next school day, the fire alarm rang. Our high school was the biggest in the state, which meant a lot of kids, which meant a lot of potential for pranks. The fire alarm got pulled all the time. This was before they put up surveillance cameras in the halls near every fire alarm. Here's why they put up security cameras: That day, just as everyone was starting to think this was just another prank, just as they were getting ready to go back inside, the brand-new six-million-dollar basketball gymnasium exploded.
We didn't have school for a week. When we got back to school, everything would suck. Metal detectors at the entrances, friskings at lunch; you'd get expelled if you were late to a class, et cetera. However, for that one week in November, by god, I had Final Fantasy VI, and there was nothing like it in the world.
Fifteen years later, I am a Real Adult who fears not expulsion and actually enjoys being frisked; I buy Final Fantasy XIII in the freezing cold at a 7-eleven in Tokyo, and play it for five hours, sleep-deprived, before getting on a train to the airport. For the first time since, well, Final Fantasy IX, I'm spending a Christmas with my family, in Indiana, in the United States of America. Final Fantasy XIII is not the thing I am most looking forward to — I am looking forward to food, to pizza and Chipotle.
Somewhere in the middle of the Pacific Ocean, the anti-humidity in the plane cabin dries out my top lip. As my face contorts with the agony-like joy of three days' worth of well-earned sleep, my lip breaks in three places. I wake up, two hours from landing, with blood between my front teeth. Thanks to the coughs and chokes of infants and children around me, my top lip is already miraculously infected. Twenty-four hours later I'd be eating Chicago-style pizza with green Tabasco all over it, and I tell you I have never felt so much pain related to pizza. That doesn't mean it's not still delicious.
That is what Final Fantasy XIII is like.
We Are Actually Talking About The Game Now
Okay, wait, let me say a few things about myself again before we really start talking about this game:
I haven't spent time in the "real" part of America (just California) in the last six years, so I've forgotten a lot of little things. For example, by looking at the medicine on friends' shelves here in the Midwest, I realize that, in Tokyo, over the past few years, I have not experienced:
1. Headache
2. Diarrhea
3. Gingivitis
4. Dandruff
It must have something to do with the diet, and the unavoidable daily exercise (walking).
However, in America for five days, I find myself suffering both headaches and gingivitis. I wonder if dandruff and diarrhea aren't far behind.
So, I am playing Final Fantasy XIII with a weird, meningitis-like spotty localized headache and an effervescent-like fever. I am convinced that this is, probably, the only way to play the game — that the game itself might be responsible for this weird feeling.
My friends Doug and Julie Jones and I played the game for eight straight hours at their house, from the very beginning, past the point I'd played in my living room in Tokyo, right up until the point where the story gets actually interesting. Then, with a fever — a provable, valid excuse to avoid my family for a few days — I stabbed the knife of my life into the meat of Final Fantasy XIII.
Short impressions: The game is entertaining.
Long impressions: The first thing I noticed, when playing the game on an American PlayStation 3, is that not only is it not region-locked — it is kind (?) enough to switch around the confirm / cancel buttons. I'm sure that's old news. Well, I never had any context to notice it before, so there you go.
Annnnnnyway, where the hell do I start with this game? I guess there's the issue of it being a straight line.
Final Fantasy XIII as: A Geometry Lesson
This one's easy: in Final Fantasy XIII, you're constantly moving forward. It's a moving-forward simulation. You know that map that emerged on the internet (here is where I type something in parentheses asking Stephen Totilo politely to find that map and insert it above or below this paragraph, whichever looks best. [Note from Stephen: Done, Tim, done!]) that demonstrates how straightforward the game is? The guy who made that map warns that it's only the first "five or six hours" of the game. Do not take this to mean that the game then becomes a Ponderosa Grand Buffet of nonlinearity immediately after the end of this map. No, loyal internetizens, the reason this Japanese dude only upped a map of the first five or six hours of the game is because he was likely playing it at breakneck pace and wanted to upload a map while the linearity of the experience was still newsworthy. He would have posted a map of the whole game if he could, and the lols would have been deafeninger, however, to do so would have been to risk a massive scoop by someone else. So he went with the first "five or six" hours.