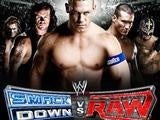 THQ wrapped up two big loose ends at the end of this year, reaching a settlement with Jakks Pacific over who owed what for the rights to World Wrestling Entertainment and, separately, extending its deal with the promoter to 2018.
In the first case, a three-party settlement among all involved will see THQ paying WWE $13.2 million, and Jakks another $20 million in four installments over the next four years. THQ and Jakks had been partners in the WWE venture, and this settlement effectively buys out Jakks, as the two sides have announced that their partnership ends Dec. 31.
THQ and Jakks had been in litigation since July, after Jakks had notified WWE it would renew the two sides' license, but THQ then sued, saying Jakks wasn't authorized to make such a decision. The payments to both WWE and Jakks resolve those entanglements.