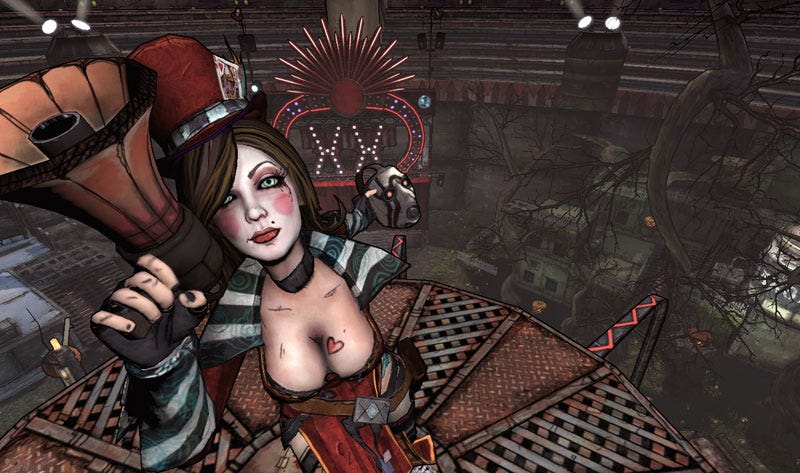 Join me as I strap on my weapons and take a trip deep into Mad Moxxi's Underdome Riot, the second dose of downloadable content for Gearbox Software's Borderlands.
The second installment of Borderlands DLC ditches the exploration found in The Zombie Island of Dr. Ned in favor of strengthening the ties between the game and the Mad Max series of post-apocalyptic action movies. Stealing a premise from Mad Max Beyond Thunderdome, Mad Moxxi's Underdome Riot sees players fighting for fame and fortune in a series of new Riot Mode arenas, facing wave after wave of enemies in either single player or co-op battles.
It sounds intriguing, but it's got to be more than three new arenas to warrant a $9.99 price tag, right? Read on.
What Is It?
Mad Moxxi's Underdome Riot is the second set of downloadable content for Borderlands. Rather than a new area to play in, which we got in the first downloadable content, The Zombie Island of Dr. Ned, Mad Moxxi delivers a new gameplay mode, Riot, which is almost like a game show version of Gears of War's Horde Mode. The titular Mad Moxxi, a widow several times over seeking to relieve her boredom with carnage, entertains a cheering crowd as you and your teams take on five different waves of enemies in three new arenas - Hell-burbia, the Angelic Ruins, and The Gully. These aren't simply pits that fill with enemies - they are relatively sprawling yet contained battlegrounds, ready to be soaked with the vital fluids of your prey.