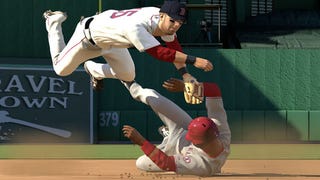 Every year in sports has its winners and losers, but in sports video games, the results aren't about pennants and trophies. And they're not always clear-cut, either.
In many ways 2009 was like most for sports games - every major team sports title put out a new version; Madden sold a ton for EA Sports; cover athletes were leaked and/or announced; titles such as EA Sports' FIFA and NHL followed their own strong traditions, while ones like THQ's UFC Undisputed broke new ground. Kotaku's roundup of 2009 is not of the routine stories however, but the ones that had the most lasting impact on this year, and should into next year, too. We invite you to continue the discussion in our comments.
The Race is Over for NASCAR
In early February, EA Sports announces there will be no sequel to NASCAR 09, ending a series going back under various names to 1998. The title's biggest problems were in the franchise's poor sales and limited growth potential. Later, EA Sports boss Peter Moore reveals that the NASCAR development team has been repurposed to its upcoming EA Sports MMA, and the publisher has no plans to restart the racing franchise.