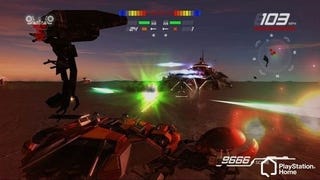 PlayStation Home is moving its social network toward the gaming space by releasing a real, honest-to-god video game through Home. Meet Sodium, "an arcade shooter in an MMO wrapper."
The game launches today, featuring a new game space accessible through a teleporter in the Plaza. If any of you regular Home users were wondering what that tank in the Plaza was, here's your answer. Home Director Jack Buser and several members of Sodium's development team from Outso were on-hand to give journalists a little taste of what is now out there for all you Home users to enjoy.
Buser's hinted before at his intentions for Home to become a gaming platform as opposed to a virtual world tacked onto a gaming platform. He's used the words "mini-MMOs" to describe what he envisions the spaces within Home becoming. We've seen the beginnings of it in places like the Uncharted Nepal space (also developed by Outso) and now we're getting the first bite of Buser's ultimate vision for Home.