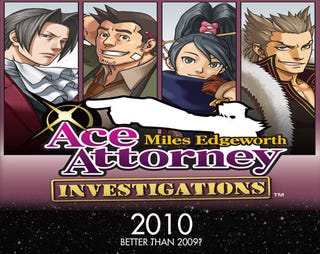 Out in Japan this year and coming to America in 2010, Ace Attorney is a return to crime-fighting and lawyering on the Nintendo DS, with maybe the best mechanics in the series... if that's what series fans are looking for.
I believe that Ace Attorney games — which I can't help still thinking of as "Phoenix Wright games" even when they don't star Capcom's star prosecutor — are best judged by how many times they make a gamer laugh. These games might involve murder and desperate claims of innocence, but they're also comedies. Their charm is their absurd characters in absurd situations.
In the courtroom of comedy, however, I cannot yet judge Ace Attorney Investigations a success. Last night and this morning I solved the games's first case, one that involved a gut-shot murder victim found in the office of series regular and Investigations protagonist Miles Edgeworth. I can't credit the game, so far, with more than one chuckle, which I got when a rival prosecutor/jock swallowed his gold medal.
The better comedy, which the game's jovial and hilarious developers assured me in September is in the game — because it is an essential ingredient — may lurk later. (Note to series fans: If you, unlike me, are into series fool Dick Gumshoe then you will be chortling during the first case.)