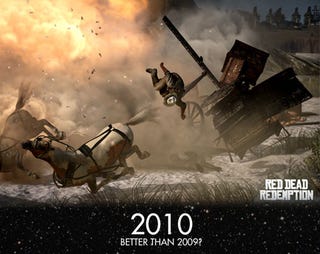 You're on a vast landscape. The biggest one ever made by Rockstar, bigger even than the terrain of Grand Theft Auto San Andreas. You're in the virtual west. No cities are nearby. Think you can have fun?
Never a development studio looking to take the easy path, Rockstar Games is roaming into the gameplay wilderness with its next big game, Red Dead Redemption. Their team at Rockstar San Diego is daring not just to make a Western, a genre which has had few, if any blockbuster games, but do so without ignoring the rhythms of life in the great outdoors. It's not the easiest way to situate a game, to keep it interesting and fun.
But, with luck, based on what representatives of the company recently showed Kotaku in New York, we'll have a good if harrowing time out there. Don't mind the quiet. It's not meant to last.
Rockstar wasn't allowing hands-on time with Red Dead Redemption yet, but their reps did play the game in front of me, showcasing how reformed outlaw protagonist John Marston can venture across the game's three expansive regions. His adventure is set circa 1910, when the Wild West was all but tamed and the government was encroaching on all sides. The places where Marston goes are the remains of the fringe: a Mexican area called Nuevo Parasio and the U.S.-set New Austin and West Elizabeth.
We mostly stayed away from storyline missions in this demo, braving the dynamic events that are built to keep life interesting off the critical path.
The Rockstar reps had Marston ride his horse, boasting of the attention to detail in its physique and gait (see today's first-in-a-series developer videos for more on that and other Redemption features). With his horse he could ride the plains and use maps to search for treasure. Those maps aren't very game-like. They illustrate landmarks you'll have to be sharp enough to spot for yourself in Marston's world. He could hunt animals and skin them for pelts that could be traded in at town. He could pick flowers, as I requested he do, to give to a doctor to make into medicine. None of this seemed like instant fun. All of it seemed like tonally proper role-play. Maybe this is what it was like out there, back then.