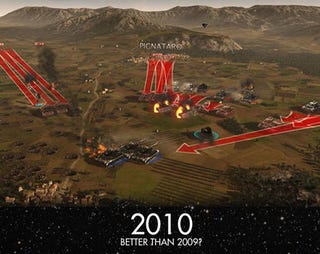 I controlled a real-time-strategy game with my fingertips for the first time last week. It wasn't as bad as I feared, not yet as good as I now want it to be.
The game was R.U.S.E., the March 2010 real-time strategy game from Ubisoft that will be playable on a PC or Xbox 360, and PS3 without a touch screen.
But with a multi-touch screen is how I would sample it last Wednesday evening. Specifically, I was playing the game on a HP TouchSmart monitor which runs a several hundred dollars.
Imagine your typical RTS, which isn't quite the description R.U.S.E. seems to deserve. As noted before on this site, the game has some good twists involving its battlefield perspectives and emphasis on deception. But for this post, consider it typical, with units spawned and selected from an overhead perspective, directed toward their targets.