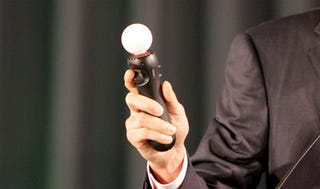 Following up on reports that EA chief John Riccitiello let slip the name of Sony's upcoming PlayStation 3 motion controller, a Sony spokesperson told Kotaku that "Gem" isn't necessarily the device's real name.
The term "Gem" was "an early code name for the product," according to Sony Computer Entertainment of America director of communications Patrick Seybold. "We haven't announced final name at this point."
Yesterday morning, EA's Riccitiello told a gathering of investment analysts in New York that he expected impressive things from Microsoft and Sony's motion control technologies, referring to them as Natal and what sounded like the word "Gem."