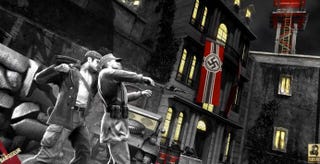 What seemed great on paper — a World War II game like nothing else, with sophisticated artistry to boot — had to be turned into a video game. But then some things, not necessarily too many things, went wrong.
The Saboteur is the final game developed by Pandemic Studios out of the EA-owned label's former offices, the last hurrah of the studio that brought gamers new takes on combat through Full Spectrum Warrior, Star Wars Battlefront, and Mercenaries. And their last standalone effort may have been their boldest, a World War II open-world game set in and around Paris, starring an Irish race car driver on a vendetta against the Nazi occupiers of France's beautiful city.
The game has received headlines for its inclusion of optional nudity and near-nudity, and it's likely turned the head of anyone who has seen screenshots or video featuring its terrific mixture of black-and-white graphics and color. But what makes it worth playing is its attempt to offer a mix of Grand Theft Auto, Assassin's Creed and thankfully some of its own style, situated in a time and place of history no other major game has explored, letting its players be the hero in a battle they can't truly win, sneakily killing Nazis and brashly blowing up zeppelins along the way.