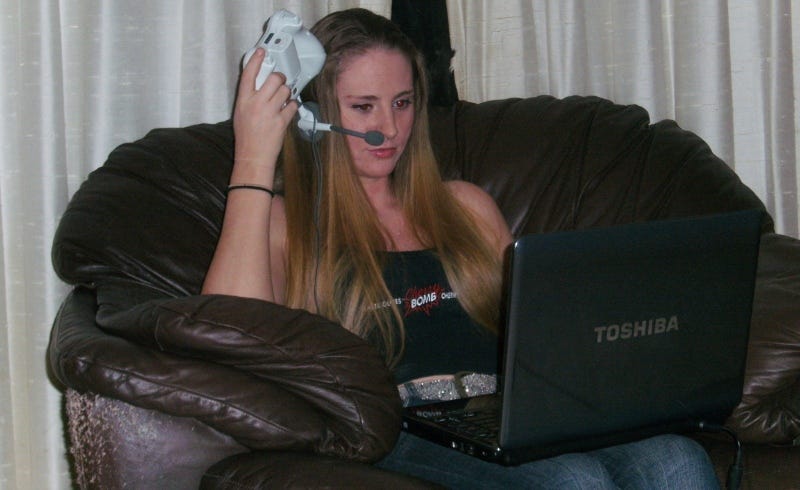 It's 9 p.m. and I've lost my fifth straight game of Madden NFL Arcade to the same person, each time by 30-0. My opponent has a gamerscore of more than 165,000. But it's not because she's good at football.
"I hate sports games," Kristen says with a weary laugh, reminding me for about the fifth time this Thursday night "I had to ask someone what a sack was. They said it's when you tackle the quarterback. I said, 'Which one is the quarterback?'"
Only in name are Kristen and I playing Madden NFL Arcade. Instead we are "boosting," - throwing games to each other, more or less, to rack up multiplayer achievements. I've already gotten 50 points the easy way. Now it's her turn.
It is a substantial part of how Kristen, whose last name I'm withholding out of concern for her privacy, has become, according to one leading compilation, the No. 4 ranking woman, worldwide, in Gamerscore. Her tag is CRU x360a - go ahead, look it up. Kristen - CRU or Crubie to some online - is a 24-year-old stay-at-home mom in northwest Indiana. You call her extremely motivated. You can call her obsessed. You can also call her an achievement whore, like she hasn't heard that from every piss-ant with a 5,000 gamerscore in the underground zone.
Bottom line, she's is really effective at piling up her gamerscore. But she's not sure when, or if, she will stop.
A Race to the Top
"It was a friendly race at the time," Kristen says of the beginning, three years ago, when she got serious about her Gamerscore. "It was to 20,000. My buddy was at 15,000 and I was at 13, I was 2,000 behind him. I said, 'OK, this might take years.'
Kristen had bought an Xbox 360 in early 2007 and, like most, it wasn't because it offered achievements. She was a multiplayer gamer on a few titles she enjoyed - shooters mostly. Then she joined a Gamerscore league. And then she got into this side bet.
"Once I found sites that had guides on which were the easy games, I beat (20,000) in like a month and a half," she says. "It got me hooked and it was like a drug. A bad drug. A bad habit."
Soon enough Kristen managed to fall in with some elite players in the achievement grinding world. One, named Smrnov, who is the global No. 10 on MyGamerCard, praises Kristen's team-spirited achievement hunting. "CRU was unselfish in the help she offered our team, and has always been reliable for getting the game time in, which is a very hard trait to find for spanning so many different games, versus a single one," he says.
Stallion83, the global No. 2 on that list, played with Kristen in those early days, and was most recently her boosting partner on Damnation - a terribly received game. ("We managed to have fun talking about The Leprechaun movies," he says. "Party chat has made some of these games less painful.")
"She was just a nice person," Stallion83 recalls,"like one of the dudes. Most girls cause drama and try to get attention. I didn't see that with CRU." Both he and Smrnov heap praise on Kristen's FPS skill. "A great FPS player," says Smrnov. "In addition, she's very good about figuring out the best strategy for completing a game quickly and doing all associated research. She has both gaming skills and gamerscore skills."
But that doesn't keep Kristen from going after the kids' stuff, too. Last week, Spongebob: Truth or Square put her over 165,000. It's a cute detail but it barely scratches the surface of Kristen's performance over the past three years. Nor does the four-game Gamefly subscription, in constant rotation. That's to be expected. And the shelf full of games, many of them years old and still waiting to be played, well, what would you consider impressive? A hundred and sixty?
She bought Jumper: Griffin's Story - one of the worst reviewed games ever in Xbox 360 history. The day Modern Warfare 2 was released, she spent all her time on Cloudy With a Chance of Meatballs. American Idol? She put the microphone in front of a speaker and played songs into it to ace the performances that much faster. It didn't work for Sing It: High School Musical or Hannah Montana, so, she had to belt those out herself.
"They're easy enough songs; It's not bad, there's no one looking at me while I'm playing it," Kristen says, "but my friends (on Xbox Live) see it, and all the guys can't believe I'm playing that game."
Remember that deal a few months back, when a someone tried to round up a 1,000 players to log in to NBA Live 07 and get the 100 gamerscore achievement for 1,000 players being online at the same time? Kristen was a part of that, with two versions of the game, one she had to go out and find for $3 at a game store, and the other playing on her Japanese 360.