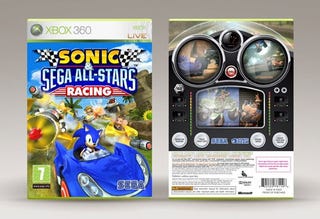 Sonic the Hedgehog's list of furry friends may be expanding in Sonic & Sega All-Stars Racing, as purported box art for the Xbox 360 version of the Sega game shows Rare's Banjo and Kazooie.
Fan site Sonic Stadium spotted the box art—with a little help from Spindash.de—at designer Chris Lewis' personal web site, a site which has since been stripped of just about everything. While the box art could be nothing more than a mock up, the inclusion of other mascots fits in with another Sega-based rumor.
You may remember that an internal Sega document outlined the publisher's plans for including mascot characters in Sonic & Sega All Stars Racing. That document specifically mentioned "characters from Rare or Fable universes" even though it was apparently culled from a meeting with Sony.