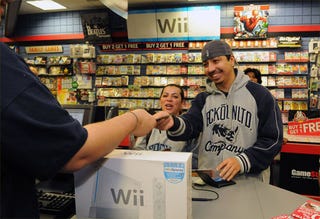 November will be a big month for Nintendo when all is said and done, based on the more than 1.5 million consoles and handhelds it sold in the United States last week.
That 1.5 million breaks down to more than 550,000 Wii consoles and more than 1 million Nintendo DS and Nintendo DSi portables, according to Nintendo's internal estimates. In terms of frequency, that's over 150 Nintendo hardware units sold every minute, more than 2.5 smiles put on faces every second.
Yes, those are impressive numbers. But one of those numbers was more impressive last year, when Nintendo says it sold more than 800,000 Wiis during the same time period.