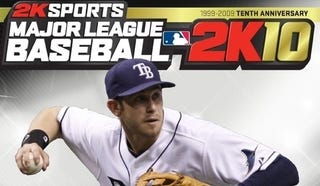 Michael Phelps might have been on a Wheaties box. It doesn't mean he advised General Mills on how to make the cereal taste better.
But that's also the role Evan Longoria, the newly minted Silver Slugger and Gold Glover from Tampa Bay, takes on as the cover man for MLB 2K10, an endorsement announced this past week.
A cynic might view the selection of Longoria - a third-year player from a small-market franchise - as a budget choice for 2K this year, especially in light of MLB 2K9's underachieving performance last year with a Cy Young award winner (San Francisco's Tim Lincecum) headlining it. Longoria on MLB 2K10 is also well overshadowed compared with NBA 2K10 and NHL 2K10, which landed Kobe Bryant and Alexander Ovechkin, easily the top stars of their respective leagues.
But Chris Snyder, 2K Sports' director of marketing, insists the title wasn't settling when it signed Longoria. His team starts looking for the MLB cover man about two months into the season, meets with a pool of candidates at the All-Star Game, and bases the choice on his willingness to contribute to the game, not just its promotion.
"If Albert Pujols or A-Rod want to be in a video game, and give us that kind of time commitment, certainly we'd listen," said Snyder. "It's not that younger players have more time, it's more about them seeing video games as an avenue to promote themselves and their teams, and to be a part of something cool."
Longoria, who goes back to Ken Griffey Jr. Baseball on the Super Nintendo, is part of a generation of sports superstars now in its middle- and late-20s that has been playing modern, 3D sports simulations since at least their teenage years. It's a perspective that brings an innate enthusiasm for the product.
"Whatever I can do to further the realness and the gameplay - as far as things like the data, or the way I step in and out of the batter's box - any kind of input I can provide, I might not ever get this opportunity again," Longoria said.
Increasingly, we're seeing this kind of athlete input. An aside comment from Alexander Ovechkin of the Washington Capitals gave NHL 2K10 its "Is Party Now," marketing slogan. Although he wasn't the cover athlete, Edmonton's Zack Stortini consulted with EA Sports' NHL 10 on its new first-person fighting mechanic, and also the finer points of how physical play can be a tactic affecting team morale. Top mixed-martial arts fighters have also visited EA to weigh in on early builds of EA Sports MMA, sometimes with hilarious results.