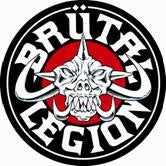 There are things you can debate about Brutal Legend, but one thing is an absolute fact: It's METAL, pure METAL!
But how about you gamer? Are you metal? I'm sure you say you are, but are you really metal? Like as metal as the German guy who stopped me at the train station in Cologne to hug me and shout "Fucking Metal" in my face?
If you are, then maybe you're one of the 40 people who will be lucky enough to win a Mishka Brutal Legend T-shirt.