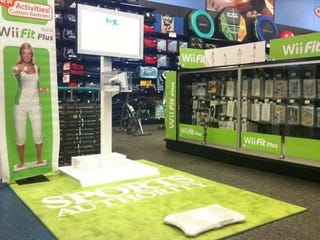 David Campisi's life is all about exercise and sports.
As president of Sports Authority, Campisi runs the largest sports goods retailer in the country. His wife, Beci Campisi, runs a garage gym based on the grueling fitness methodology of CrossFit which uses medicine balls, weights and nonstop exercise to mold "the quintessential athlete."
But when he first heard of Nintendo's part-game, part-exercise Wii Fit and Balance Board, he knew he had to get one. More importantly, he knew that he had to start selling it in his chain of stores, among the dumbbells, the rowing machines, the treadmills and the basketballs.
"When Nintendo first came out with Wii Fit I knew we could sell that product in our stores," Campisi told Kotaku. "I paid some guy on eBay $180 for a Wii Fit because you couldn't buy it in stores."
That was in 2008, last week, with the blessing of Nintendo, Campisi launched his campaign to sell Wii Fit and the Wii as exercise equipment in Sports Authority stores nationwide.