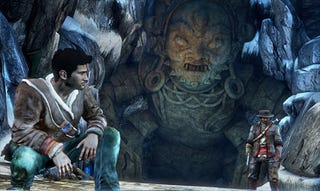 Naughty Dog's PlayStation 3 exclusive Uncharted 2: Among Thieves, as expected, trounced the competition in October moving over a half-million copies, according to the NPD Group. But competitors Wii Fit Plus and Borderlands racked up impressive sales of their own.
The month was packed with new software, including Forza Motorsport 3, Kingdom Hearts 358/2 Days and NBA 2K10 which put big numbers on the board. And while the PS3 and Wii secured software spots one and two, respectively, the Xbox 360's showing as a platform resulted in six of the top ten games sold in the U.S. this October. That's a lot of royalty payments going Microsoft's way.
And speaking of Microsoft's fortunes, last month's U.S. software champ Halo 3 ODST managed to round up another 271,000 sales.