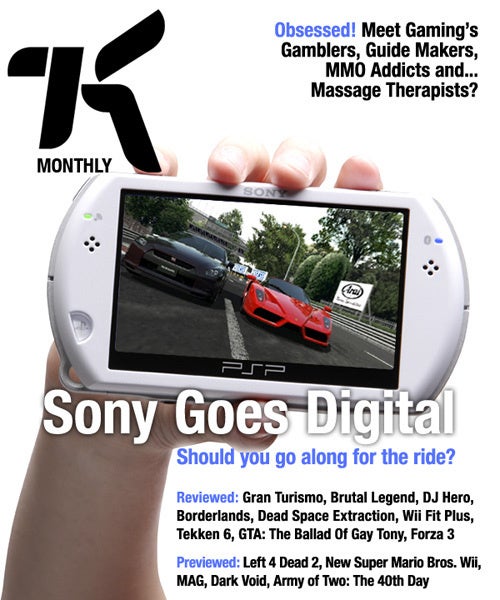 TABLE OF CONTENTS
November 2009
REVIEWS
Dead Space Extraction Review: Frighteningly Good
PSP: Attack of the Minis
Heroes Over Europe Review: A Flying Shame
FIFA 10 Review: 30-Yard Screamer
MySims Agents Review: Sherlock Holmes Didn't Have To Deal With This $#@%
NHL 2K10 Review: Thin-Ice Capades
Spyborgs Review: Not-So-Heavy Metal
Gran Turismo PSP Review: Steady As A Pace Car
Wii Fit Plus Review: Now I'm A Believer
MotorStorm: Arctic Edge Review: Big Game, Big Fun
Katamari Forever Review: Nothing More, Nothing Less
South Park Let's Go Tower Defense Play! Review: Throwing Snowballs
Kingdom Hearts 358/2 Days Review: Crisis Hearts
NBA 2K10 Review: Ball, You - Man!
NBA Live 10 Review: Amen for a Revival
Operation Flashpoint: Dragon Rising Review: Boom Headshot!
Brutal Legend Review: Testing Its Metal
Lucidity Micro-Review: Beauty Is Only Skin-Deep
Ju-on: The Grudge Review: Curse Of The Movie Game
Half-Minute Hero Review: A Good Risk
Zombie Apocalypse Micro-Review: Paint the Town Red
Axel & Pixel Micro-Review: A Puzzling Combination
Borderlands Review: Guns! Guns! Guns!
Critter Crunch Micro Review: Gross In a Cute Way
Bakugan Battle Brawlers Review: Almost There
A Boy And His Blob Review: The Zero Nostalgia Version
Mario & Sonic at the Olympic Winter Games Review: Going Through the Motions
Ratchet & Clank Future: A Crack In Time Review: The Leap, At Last
Marvel Super Hero Squad Review: This One Is For The Brats
Dungeon Hunter Review: Pocketful of Diablo
Rock Band Micro Review: iPhone Joins the Band
Forza Motorsport 3 Review: Definitively Maybe
DJ Hero Review: You Spin Me Right Round
GTA: The Ballad Of Gay Tony Review: Out With A Bang
Tekken 6 Review: The Lag of Iron Fist
Saw Review: Do You Want to Play This Game?
LostWinds: Winter of the Melodias Micro Review: A Pleasant Gust of Fun
PREVIEWS
Eliminate Preview: Transitive Verbs Are Cooler Than Nouns
Sims 3 World Adventures: Chopsticks, Mummies & the French – Oh My!
New Super Mario Bros. Wii Preview: All The Modes, All The Chaos
Global Conflicts: Child Soldiers Preview: Show Me, Don't Tell Me
FATALE Preview: Alluring, Alarming and Totally Ambiguous
Left 4 Dead 2 Scavenge Mode Preview: Giving Multiplayer The Gas
Jam Sessions 2 Preview: I Fought The Law And Nobody Won
Dark Void Preview: Learning To Fall With Style
Sign Up To Test Zune, Facebook, And Twitter On Your 360
Star Wars Battlefront: Elite Squadron Preview: I'm A Total Space Case
Army of Two: The 40th Day Multiplayer Preview: Extract Some Fun
Avatar Wii Preview: Environmentalism Commando
Dementium II Preview: A Mature DS Game With "Hell Moments"
MAG Preview: Come Back Here With My Tank!
Dawn of War II: Chaos Rising Preview: The Darker Side Of Dawn
COLUMNS
Well Played
Why Everyone Should Be Watching the PSPgo
When the Going Gets Tough... Let the Game Play Itself
Windows 7: What Happened to Gaming?
Video Game Speakeasy Slips Into Soho for a Night of Raucous Fun
Can Bigger Screens Save a Shrinking Market?
Stick Jockey
A Virtual Golfer Looks Back On - and Ahead to - His Tournament Career
It's Not in the Game - Should it Be?
Re-Creating a Stadium Before Its First Pitch is Thrown
With NCAA 10, EA Guns for Two Shining Moments
Leigh Alexander
In Praise Of Hard Games
tim rogers
i've been shot!
COVER
Designed by Michael McWhertor