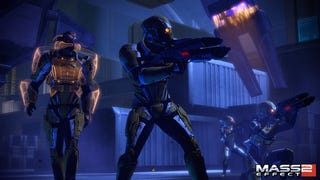 Freeze-bullets. Framerates. Interactive cut-scenes. Even old friends from other Mass Effect games (yes, plural). These are some of the things, new or improved, that I recently saw in Mass Effect 2.
Just three months before the January 2010 release of BioWare's second Mass Effect, there is an intriguing bit of, well, intrigue about what's going to be happening in BioWare's science fiction sequel to its hit Xbox 360 and PC role playing game Mass Effect. The more I've seen of Mass Effect 2 over three showings in June, September and then last month, the more mysterious its adventure seems.
The more I play it and talk to those involved in making it — including during a recent Xbox 360 demo of the game in New York of a new mission on the planet Omega — the more it appears that the flaws of the game's acclaimed predecessor have been addressed as the game assumes its identity as a shooter-role-playing-game hybrid.
Scrubbed, at least in the demo missions, are graphical imperfections: Slowed framerate, texture pop-in and bland backgrounds. All remedied, it seems.
The mission I saw brought Commander Shepard to the planet Omega and a nightclub called Afterlife where flames flashed in the background of the club and graphical textures didn't pop in a few seconds too late. Dancers and bartenders prowled a scene that bustled with more commotion than anything I'd seen in the first Mass Effect.
Graphical upgrades were desired and expected. Did you foresee that cut-scenes could benefit from some user involvement? After meeting some seedy folks at the bar, Shepard ran into an old friend from Mass Effect 1 — I'll only spoil his identity in the last sentence of this article. A cutscene started, but not the idle type of an older game. During a climactic moment, the player's of the trigger let off a rifle round, leaving fewer enemies to fight in the subsequent post-cutscene battle. This is similar to a moment during a cutscene in a level shown at E3 that let Shepard shove a man out a window, supposedly when prompted by a button cue.
Better graphics, interactive cut-scenes… how about an ammo upgrade?
This is the change I'm less sure all Mass Effect fans will like. As the Penny Arcade Expo demo of Mass Effect 2 led me and our readers to believe, the new game will arm the player with ammunition-based weapons that need to be manually reloaded.