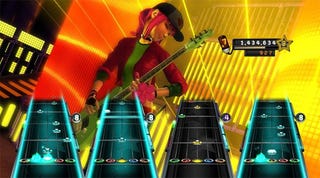 Activision is catching legal heat from band No Doubt over the group's appearance in the recently released Band Hero. No Doubt is suing Activision, seeking damages for turning the act into "virtual karaoke players." Sound familiar?
No Doubt says in a statement that the band "agreed to place avatars containing their name and likeness performing three No Doubt songs" but that Band Hero allows their use in more than 60 other songs, all without the group's knowledge or approval. (No Doubt's "Don't Speak" and "I'm Just A Girl" appear in the console versions of Band Hero, with "Excuse Me Mr." featured in the Nintendo DS version.)
Furthermore, individual band members can be "isolated into solo performances of these cover songs and placed randomly in countless variations."
According to No Doubt's claim, that goes against the contract it signed with Activision granting its likeness in Band Hero. It also contends that Activision refused to change the band's appearance beyond the agreed songs, saying that catering to No Doubt's request would be "too expensive."
The publisher of Band Hero raised the ire of Kurt Cobain's widow Courtney Love—as well as former Nirvana members Dave Grohl and Krist Novoselic—for the singer's inclusion in Guitar Hero 5. In that game, the late Cobain could be used in non-Nirvana songs, performing any instrument, resulting in hastily Twittered fury from Love and requests from her attorneys to limit the musician's appearance in the game.