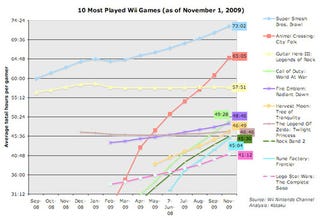 Lots to discuss about these stats this month, as Call of Duty rises to fourth and Guitar Hero III begins to dip. Remember, the numbers show hours:minutes, lifetime, for these games.
(Click the chart to enlarge)

The Nintendo Channel is properly calculating and reporting player data again and so I can provide this month's look at Wii gaming usage without last month's asterisks. The stats on the chart are up to date as of the first of November.