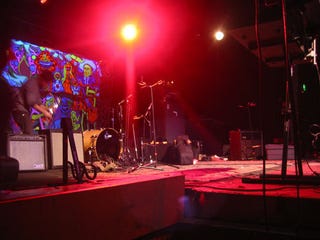 The Kotaku Child's Play fundraiser will include Rock Band and DJ Hero up on stage as well as a free console arcade when it kicks off on Nov. 19 in the historic Cervantes Masterpiece Ballroom in Denver.
Last year our annual fundraiser drew in a crowd of about 300 people before hitting capacity, this year we have room for more than 500.
The event is open to anyone 16 or older and kicks off at 6 p.m., running until midnight. If you are 21 or older, don't forget your ID so you can get a wristband to purchase drinks.
We're asking for a minimum donation of $10 to get in and get a door prize ticket. We will be giving away a huge amount of swag including more than 70 T-Shirts, a custom straight jacket, a Guitar Hero drum seat, a popcorn machine and Divinity Dragon knives.