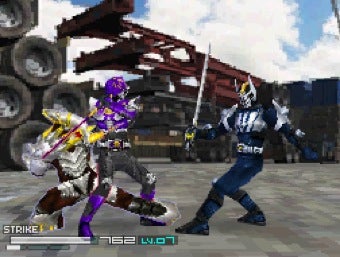 Did you know people made single-player fighting games? I played one last week.
The Kotaku editorial database indicates that before Kamen Rider is released for the DS this year, Yie Ar Kung Fu may have been the only single-player fighting game ever made.
After all, why would anyone make a single-player fighting game? Isn't that just a brawler?
Ah, but they do exist.
After I checked out the new Matt Hazard game last week, a rep from that game's publisher, D3, let me try the company's Kamen Rider: Dragon Knight fighting games. There's one coming to the Wii, one to the DS, both based on a several-decades-old Japanese series that has a Power Rangers aesthetic.