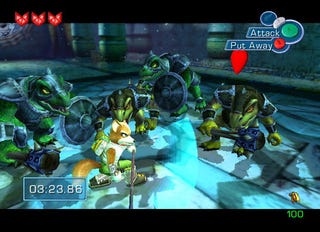 Inspired by Crecente's posts about Epic Mickey I went digging for some older Disney stories. That brought me to E3 2001 stories. That brought me to paragraphs about how awesome the GameCube debut line-up was at that show.
You are reading Kotaku's once-weekly (sort of) journey back to yesteryear.
So, yes, E3 2001 was the debut event for Disney's latest shock gaming production, the Square-Enix-developed Kingdom Hearts. That one was arguably a stranger project than a Mickey Mouse game made by the creator of Deus Ex.
But E3 2001 was also the first time reporters, myself included, could play GameCube games. I remember being blown away, but I don't think even I was so impressed as to suggest Star Fox Adventures was an adequate stand-in for a new Zelda. You know, Star Fox, the series we've also been discussing this week?