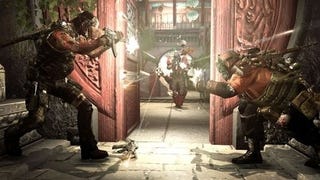 Army of Two: The 40th Day goes out of its way to carry the cooperative experience through all of its competitive multiplayer modes, but thankfully this doesn't mean endless team deathmatches.
Rather, you get your standard multiplayer modes like Control (which is more or less capture the flag) and a special mode called Extraction. Extraction mixes elements of Gears of War 2's Horde Mode with Left 4 Dead's constant location changing for a somewhat different experience than what the default multiplayer modes offer.
There is a catch, though. Extraction is available exclusively to GameStop any retailer's pre-order customers for the first month. After 30 days, though, all Army of Two customers will get their shot at the bonus mode.
What Is It?
Army of Two: The 40th Day is a third-person shooter the relies heavily on cooperative play between two people or one person and an AI-controller partner. EA Montreal Creative Director Alex Hutchinson says that the game is trying to tell a story about saving yourself (and your partner) as opposed to one about saving the world. So expect a lot of running and gunning and be prepared for the co-op strategies to get more complex.
What We Saw
A flamethrower character was briefly demoed for games journalists. Then they turned us loose on the multiplayer modes. I played two matches of Team Deathmatch in the Temple map, two matches of Control in the Aftermath and Crossroads maps and one round of Extraction in the Zoo map.
How Far Along Is It?
The game is due out January 8, 2010.
What Needs Improvement?
Polish, polish, polish! Seeing a tidbit of singleplayer totally ruined me for the Unreal engine's performance in multiplayer. Whereas the fight with the flamethrower guy was pretty and vibrant, the multiplayer models and environments looked a little rough and dull by comparison. Also, there were significant frame rate issues with the host player's gameplay and one or two connection issues. These are all things that solid polish will fix – but after seeing what happened with the Borderlands hiccups, I think it's important developers get this stuff under control before launch, not after.