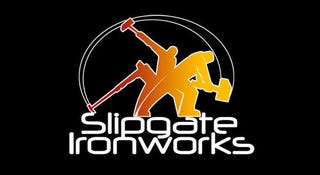 Slipgate Ironworks, the game development company founded by ex-id Software, ex-Ion Storm designer John Romero, has been pared down by parent company Gazillion, Kotaku has learned, with the start up's unnamed MMO still in development with a "smaller core team."
Word of the San Mateo, California based developer being hit with layoffs came earlier today via Kotaku tipsters, with quiet mention of the cutbacks hitting Twitter, Facebook and LinkedIn, the latter two home to "ex-Slipgate Ironworkers" groups. We reached out to a few ex-Slipgate employees who confirmed that they were no longer with the company as of this week, estimating that around 50 staffers were let go.
According to a statement from Gazillion—home to Gargantuan, NetDevil, Slipgate and The Amazing Society—the team at Slipgate Ironworks is now officially smaller, with some of the affected employees being placed at other positions within the company. Slipgate's MMO project, which John Romero briefly detailed a few years ago, is said to continue with a new format.