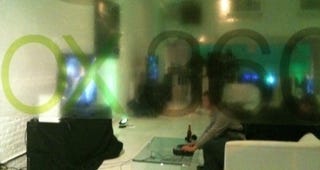 Failure is not possible in Activision's turntable riff on Guitar Hero, but I saw last night how tough — and strategic — playing the game can be.
DJ Hero was available to play in a SoHo Manhattan gallery as part of an Activision and Microsoft-backed evening event for this multi-platform game.
After I arrived, I headed to a press couch in the back of the gallery, past a real DJ who had played real records loudly enough to already prompt one noise complaint from the neighbors.
At the press couch, I played the game on Easy. A mash-up of Vanilla Ice and M.C. Hammer was selected. The game's three-lane note highway began scrolling down the TV screen. Sitting with the game's turntable controller on my lap, I had to press one of three buttons on the spinnable record part of the device, in sync with the colored icons sliding down that highway. When longer, colored two-way arrows descended, I needed to hold a button and scratch with the record. The songs in DJ Hero are mostly mash-ups of two popular songs, with each song associated with the left or right lane in the highway. (The middle track is keyed to various barks and shouts and other DJ flourishes).