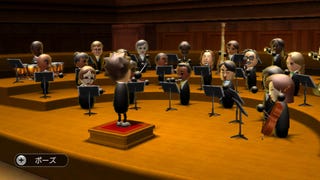 I got kicked out of choir in middle school and ever since, I've limited my study of music to whatever Guitar Hero and Rock Band have bothered to teach me.
Now, of course I've heard people say that this is wrong; that video games cheapen or damage the experience of learning real music with their plastic peripherals and oversimplification of beats, rhythm and notes. But it seems like even more music games seem to be popping up in response to this criticism – all of which claiming that they are different, that they really are about the music and not about mimicking and button mashing.
Think about it: we've got Timbaland's Beaterator which includes lessons on real music theory in the tutorial, DJ Hero which introduces the concept of an artist who uses other people's music to make an original song and elaborate music studio components in Rock Band and Guitar Hero that put the power of composition directly in your button-mashing fingers. And let us not forget Wii Music and all its lofty educational ambitions.
To tone deaf choir reject like myself, the music game scene isn't just over saturated – it's downright intimidating. Am I supposed to be entertained, educated or indoctrinated? I can hardly decide.
All of this came up today while talking with Carlo Delallana (designer) and Matt Leunig (associate producer) about their game, Jam Sessions 2 – a guitar simulator. I was playing Good Reporter and trying to find out how the game would treat me as a gamer and also as a would-be musician (despite my evident failure in middle school).