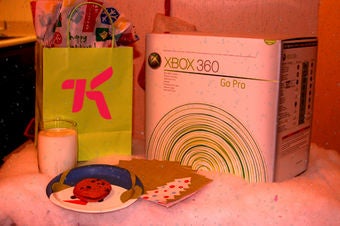 New Halo, new downloadables for Mass Effect, Fallout 3, and Grand Theft Auto, new Forza. It was a pretty good year for Xbox 360 owners.
Pick through the list to decide which games to give and get and leave a comment to point out any you would add that we didn't review.
And don't forget, this is more reference material than it is suggestion. Just because it's on the list doesn't mean we're saying you should get it.
50 Cent: Blood on the Sand


Price: $59.99
Rating: Mature
Genre: Third-person hip-hop shooter
Subject Matter: 50 Cent: Blood on the Sand tells the unintentionally(?) amusing tale of rapper 50 Cent as he struggles to reclaim his diamond encrusted skull from a Middle Eastern bad guy. He's assisted by his G Unit hangers on and some laughably outlandish moments.
Value: An adequately long adventure, made seemingly longer by endlessly looping 50 Cent songs. There are much better games to give this holiday season.
Buy it for: someone as a gag. Or a die hard 50 Cent fan fresh from a six month coma.
Read the Full Review