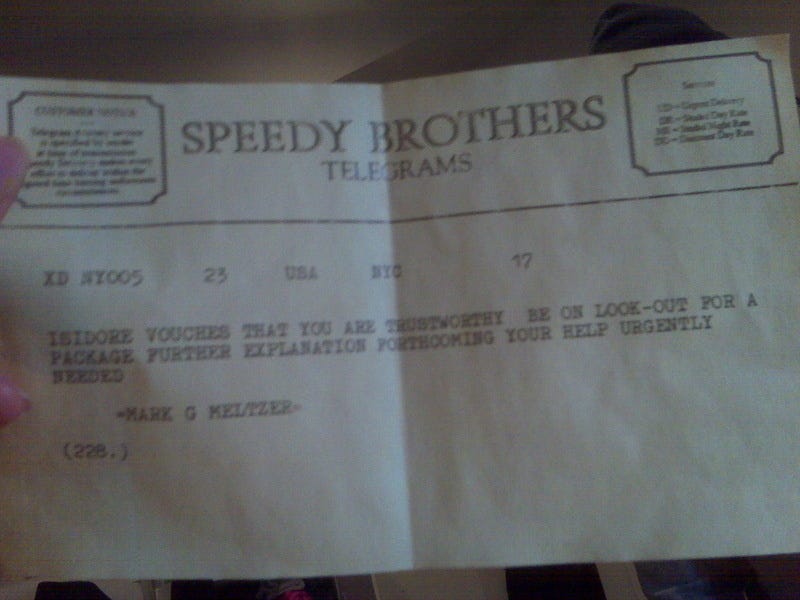 Today, certain people - we're trying to figure out why - were delivered telegrams by an old-school bicycle messenger. The cable comes from "Mark G Meltzer," the loner searching for "something in the sea," on BioShock 2's hype Web site.
That telegram above was sent to reader Andrew B., and also to three friends who comprise the Network 23 blog. If you can't read that, the text says:
ISIDORE VOUCHES THAT YOU ARE TRUSTWORTHY BE ON LOOK-OUT FOR A PACKAGE FURTHER EXPLANATION FORTHCOMING YOUR HELP URGENTLY NEEDED

=MARK G MELTZER=
Now, here's where the mystery begins. Why them, exactly? I spoke to Network 23's Colt Gauvreau, who said it may have something to do with the Rapture Record that all of them figured out how to order from the BioShock 2 hype site (and which Totilo received back in July.) Long story short, the Network 23 guys deduced that the site was strongly hinting that they should write to a P.O. Box - the same shown on this letter. That letter also wink-nudge asked people to submit pictures of the beach events. So it appears the records and/or the telegrams are premiums for accomplishing one, the other, or both.