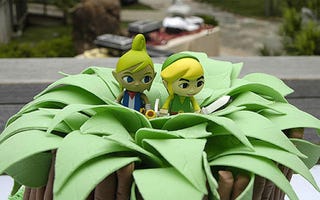 If it's Saturday morning in October here, that means, what, it's a Tuesday evening in March for Australia? I kid, I keeeeed! But it's definitely past the magic hour when Luke and his bride have said "I do."
Yes, Mr. Plunkett, Kotaku's editor for Oceania, got hitched today, and congrats and best wishes to him and his bride and to their families, and for their new lives together. Luke tying the knot was easily the biggest of big news for Kotakopolis this week, no mean feet feat considering the PSPgo launched and the team returned from Japan with a cartload of TGS09 copy.
So, like a big wedge of wedding cake that we're lovingly smushing into your face, as the DJ cues up the Chicken Dance, here's the week that was in Kotaku Originals.