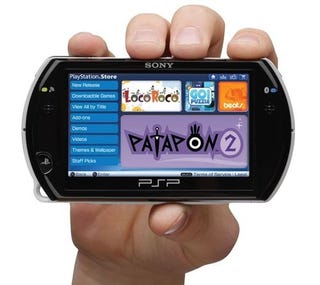 Svelte, purely-digital and a wee-bit pricey, the PSPgo officially hit stores today.
Whether you're on the fence about whether to buy a PSPgo or are trying to decide how best to load your newly acquired system with games and peripherals, we've got you covered.
Here for your quick perusal is a run down of everything we know and think about the PSPgo. You can also use this handy-dandy guide as a jump off point for your own discussions about the pros and cons of PSPgo ownership.
Have at it.
THE HARDWARE
Review
If you're still not sure if you want to pick this piece of tech up make sure to read our full review here, but here's a summary:
Pros: Smaller, lighter, sexier, Sixaxis support, digital only.
Cons: No UMD support, costly.