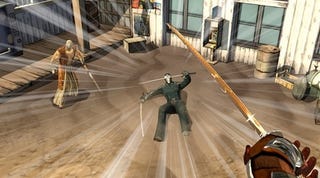 My second hands-on with Red Steel 2, this time in Tokyo, confirmed to me that Ubisoft's first-person Wii sequel is the kind of Wii game that, back in 2006, I thought we would be playing more of.
It is a game that will be as fun as the motions needed to control it. If arm-swinging can't be your thing — if you want to play your games stoically — then stay away.
The build of the game in Tokyo required space (Just like the potentially sternum-cracking Gamescom one). I needed room to get into this game, room to try some new combination attacks. We were at a stage halfway into the game, set after the game would have — hopefully — introduced each move to the player one by one.