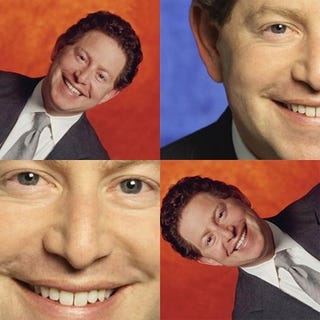 The games biz has a new favorite bad guy, and its name is Activision. Do the mega-publisher and its aggressive, polarizing CEO, Bobby Kotick, deserve the bad rap? Or do we just love to hate? Who is this man, anyway?
Though always an industry mainstay, Activision didn't start to take its place front-and-center in the core audience's shooting gallery until years recent. It was theGuitar Hero and Call of Duty, franchises that became Activision's golden calves; early incarnations of those titles broke ground and dazzled audiences.
Then came the sequels, the sequels, and yet more sequels. As the publisher's stock soared (ticker: ATVI) its triumphant executive became a vocal and often controversial mainstay in the business press – and by extension, the gaming consumer press.
"Hating EA is so last year," CEO John Riccitiello told Kotaku at E3 in 2008, talking to us about what Electronic Arts had learned from its old ways of doing business – ways that look an awful lot like how Activision appears to conduct itself these days. All across the internet, it's clear: Gamers have crowned a new Evil Empire.