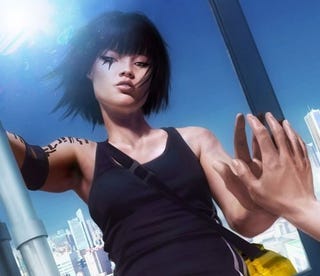 Electronic Arts is asking the United States to cancel five trademarks held by Tim Langdell's Edge Games, saying the marks have been effectively abandoned. In comments to Kotaku, EA portrayed its actions as done on behalf of the development community.
Langdell, at the center of many controversies over the years regarding trademark rights to the word "Edge", has been involved in a similar dispute with Electronic Arts since 2007 concerning its title "Mirror's Edge." On Sept. 11, EA filed a petition with the Trademark Trial and Appeal Board of the U.S. Patent and Trademark Office to wipe out five trademarks involved in the case, saying they have been threatened by Langdell for a year over the distribution of Mirror's Edge.
"EA has filed a complaint to put an end to legal threats over a trademark issue related to our game, Mirror's Edge," company spokesman Jeff Brown said Tuesday. "While this seems like a small issue for EA, we think that filing the complaint is the right thing to do for the developer community."
Langdell, in a statement to Kotaku, called Electronic Arts' petition "a desperate attempt by EA to see if they can win the right to use Mirror's Edge by forcibly removing Edge's legitimate rights to Edge." Langdell pointed to a USPTO ruling in his favor, from August 2008, which found EA's registration of the trademark "Mirror's Edge" had been granted in error, and the company's subsequent abandonment of the mark - made official Sept. 8 - "stands as an acceptance of Edge's rights."
The USPTO database does list the trademark "Mirror's Edge" as "abandoned" as of Sept. 8, 2009. When asked about the timing of EA's filing, Brown, the spokesman, said only that the company had been unsuccessful in its yearlong attempt to resolve the dispute, and "we feel it is important to establish the rights of developers in this situation. So we filed the petition to cancel those marks."
Brown also declined to comment when asked if the petition was at all related to any upcoming product announcements using the word "Edge." Nor would he specify how negotiations with Langdell broke down.
Over the years, Langdell has been accused of heavy-handed behavior against developers who wittingly or unwittingly use the word "Edge", which he trademarked years ago for use in video games, and a slew of other associated products since then. In addition to the disagreement with EA, Langdell has been involved in a bitter dispute with Mobigame, whose iPhone game EDGE has appeared on the iTunes App Store and was later removed when he challenged Mobigame's usage of the title.
The notoriety surrounding this action in large part led to a campaign to have Langdell removed from the board of directors of the International Game Developers Association. Langdell voluntarily quit the board last month rather than face a removal vote.