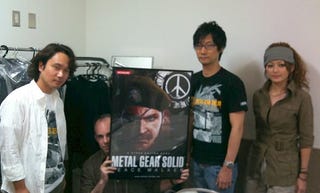 Hideo Kojima hopes that the Metal Gear series will continue beyond his lifetime, the series mastermind told Kotaku during an interview mostly about his new game and a little bit about the times he has hid in cardboard boxes.
During a half-hour backroom chat with Kotaku and Kotaku Japan at the Tokyo Game Show on Friday, sitting beside Metal Gear character designer Yoji Shinakawa and a publicist cos-playing his next game's female characters, one of gaming's most celebrated creators amiably discussed his latest works, a curious detail of his past and his hopes for the future. Much of the conversation, covering all three eras, involved Hideo Kojima's Metal Gear series, of course, a series the Metal Gear Solid: Peace Walker will continue but not complete.
"I think the Metal Gear story will not end until I pass away," Kojima said. "But, even then, young people of the next generation will continue the story as they would a classic. It's basically the story of a master and an apprentice."
Kojima's latest Metal Gear is Metal Gear Solid: Peace Walker, a portable adventure that supports multiple players and tells the pivotal story of the master, Big Boss, who would become the nemesis for the hero of the next generation, Solid Snake.
"In Metal Gear Solid 3, Naked Snake became Big Boss, but, in reality, he's not really the Big Boss yet," Kojima explained. "Eventually he's going to become the enemy of Solid Snake. I want to tell the story of how Big Boss began and what changed him."
Peace Walker is the game that will tell that story, a PSP experiment that finally puts Kojima in direct charge of one of these portable adventures of his Metal Gear heroes. It's also an early test of a theory he has. "I basically think that the future of gaming is less about platforms and more about cloud-computing, with a super-computer and people connecting to that," he said. "We wanted to experiment with the idea early on with Peace Walker and have a portable game."
(Yes, Kojima believes that cloud computing, the technique of users engaging with digital content that is stored and processed far away, is on the rise, "more of a longterm thing before cloud computing is the mainstream of games." But, no, said Kojima, who has seen his words turned into hyperbolic headlines, "That's not the main part of this article. That's just my idea on the future of gaming.")
We moved to discuss the importance of cardboard boxes as they relate to Peace Walker and his own past.
In Peace Walker, up to four players can participate in missions co-operatively. Among the co-op maneuvers available, two players can hide together under the series' signature cardboard box. "I think the cardboard box is what represents Metal Gear in a way, of stealth," he said. "This time I wanted to emphasize the co-op part through the cardboard box by having two people in it." (Read more about how the game's co-op works in Kotaku's Peace Walker preview.)