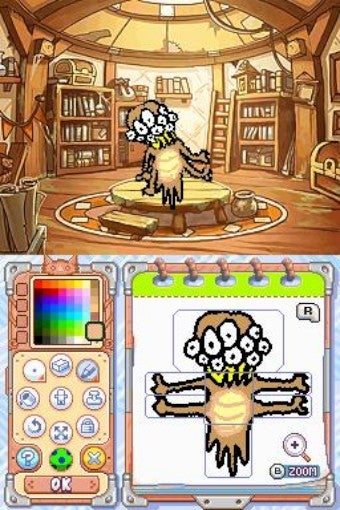 When is a Scribblenauts story not about Scribblenauts? When it's about the other ambitious game development studio 5th Cell is releasing on the DS this fall.
Before their most recent game became the talk of E3 and the most buzzed about release of the past week, Washington-based 5th Cell was best known for making Drawn To Life. The 2007 DS adventure let players draw their own hero and items while embarking on a mostly platforming-based quest. Players could illustrate every pixel of their protagonist and draw, among other things, his gun, his wings and the rocket ship he could use in space.
The precursor to Scribblenauts' exhortation for players to write anything was Drawn To Life's invitation for gamers to draw anything.
Sequels to Drawn To Life will be released next month on the Wii and DS. The DS version comes from 5th Cell and, while it is less ballyhooed than Scribblenauts, it may reveal more about 5th Cell's craft and potential as a studio of significance than the game's more hyped younger brother.
I've played through The Next Chapter's first world using a pre-release DS cartridge of the game that I picked up, in person, at 5th Cell's offices a couple of weeks ago. Earlier this week, I wrote about the one time a developer brought a complete build of his game to my office; my 5th Cell visit was the first time I showed up at a studio and walked out with a full build of a new game. What stands out to me about my visit, aside from meeting the 5th Cell team was the company's whiteboard. 5th Cell creative director Jeremiah Slaczka brought me to a board nearly covered in marker drawing and scribble — little wonder what kinds of games this studio makes — and asked me to draw something. This board doesn't get erased. My drawing would stay. I was intimidated by the art on board, but saying "no" wasn't an appropriate answer. I stalled. I almost wimped out. Then, I drew an amoeba. So... maybe I did wimp out?