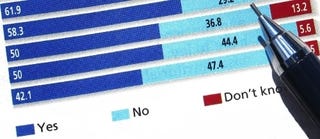 Last Saturday we asked Kotaku readers 10 questions regarding their preferences and habits in online services and downloadable titles. PSN or Xbox Live? Fat Princess or Castle Crashers? You made the call, and the answers are inside.
As I said, the answer to some of these questions might seem painfully obvious, but the goal here is not to create some surprise majority answer. In fact, sometimes the surprises can be in the minority answers. Let's have a look at what you had to say.
1. On which network do you most frequently play games online?

Xbox Live: 38 percent (4,585 total responses)
A PC network: 35 percent (4,251)
PlayStation Network : 25 percent (2,971)
Nintendo Wi-Fi Connection: 2 percent (272)
12,079 total responses.
Xbox Live's strong showing is not shocking, considering its head start on console multiplayer and the fact earlier surveys have borne it out as Kotaku readers' preferred system. What is unusual is the distant third place for PSN, and the strongly competitive showing for PC multiplayer gaming. In our past survey, PCs rated 19 percent for the most-enjoyed platform, with PlayStation at 32 percent and Xbox 360 at 41. What's that mean? Either there are a lot of PC multiplayer gamers who'd rather be on their console, or a lot playing their PS3 for singleplayer only, and doing multiplayer on another platform. My bet is on the latter.