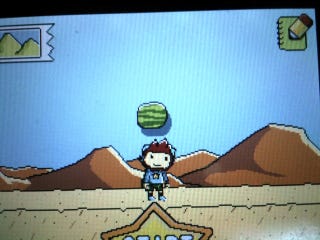 Nintendo DS title Scribblenauts has players solve puzzles by writing words. The game has a database of tens of thousands of words — writing words causes objects to appear on screen. So what happens when you write "sambo"?
You get what appears to be a watermelon.
The word "sambo" is in the 22,802 wordlist we posted previously, between "sambhar" and "samboussa". Other racial terms (not just for African-Americans, but all ethnic groups) turned up nothing. The word "slave" produced an old white man in a tuxedo. "WASP" produces a "wasp". It's worth noting that the characters in the game are a diverse bunch, with African-American models used to depict a variety of jobs including ballerina, firefighter and life guard.