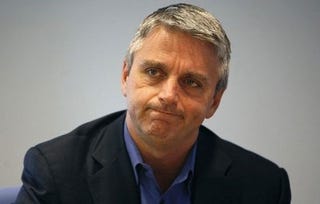 This year's sales of Madden NFL football may not be living up to Electronic Arts CEO John Riccitiello's expectations. He calls sales of Madden NFL 10 "discouraging," indicating they're down from the previous year's.
According to an internal communication intercepted by Bloomberg, Riccitiello appears disappointed that "one of our highest-rated and best-marketed 'Madden' titles in years is facing strong headwinds" in its debut month. The NPD Group is expected to release its August sales figure estimates later today.
Riccitiello noted that Madden sales were down in line with the trend of declining game sales.
Last year, Madden NFL 09 sold well over 2.2 million copies in its first month on the market across the Xbox 360, PlayStation 3, PlayStation 2 and Wii platforms. EA Sports head honcho Peter Moore pegged sales of last year's edition at $133.5 million during its first month on the market, a 6% increase from the year prior.