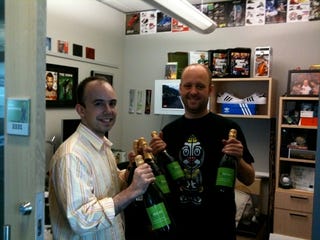 There comes a time in the week to reflect on what got into my reporter's notebook but didn't turn into Kotaku blog posts. Shall we?
I haven't been able to write one of these Notebook Dumps in a couple of weeks and am now giving you one a day early. Tomorrow is a rest day for me, a day of theoretically not doing any work, though I may start writing my Halo 3: ODST review (I played through it yesterday). It'll be embargoed until closer to the game's release. I'll also spend some of the weekend prepping some final pieces that stem from last weekend's Penny Arcade Expo. There were some fun interviews I simply couldn't get to yet. I'll get to that stuff. But there are other things that just don't rate posts. For example:
12-13 Inches: I wrote multiple stories about Bungie and Halo this week and stopped short of making a full post about an interesting fact mentioned by the studio's creative director, Joe Staten, at a PAX panel. Someone asked him about keeping all of the Halo lore straight, so he started talking about Bungie's Halo "bible." He said that if it was all printed out and stacked up, it would be 12-13 inches tall. Post-worthy? Nah. But now you know.