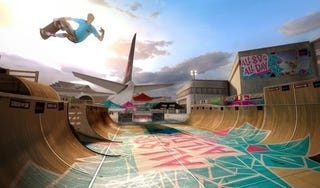 Forgive me if I get some skateboarding terminology wrong in this post. I'll do my best to relate what happened when I turned my board sideways and hit the Vert ramp in Tony Hawk: Ride last week.
I'm the kind of person who has to double-check what "Vert ramp" means before I type it, to be certain I'm not getting it wrong. I was right. It's the big U-shaped ramp I sometimes see on ESPN2.
Tony Hawk: Ride, this fall's skateboarding game that comes with a wheel-less board controller, has a Vert ramp. I'd previously tried one of the game's gently-sloping downhill courses. For that demo, the board was pointed at the TV. I rocked back and forth to turn, leaned back, jolting the tip of it in the air to jump/ollie. I executed various tilts, leans and grabs at the board's sensors to do tricks.