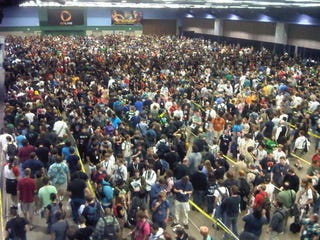 This Labor Day weekend two giant shows took over Seattle: One dedicated to music, the other to video games. But only one of them is growing.
Bumbershoot, Settle's annual international music and arts festival, has been drawing a crowd to the Seattle Center since 1971 when 125,000 visitors showed. This year attendance appears to be down, though final numbers aren't yet available. Last year it was down as well, from 150,000 to 142,000.
But downtown, at the Washington State Convention and Trade Center, the annual Penny Arcade Expo, a celebration of all things video games, is having another type of problem: They keep running out of room.