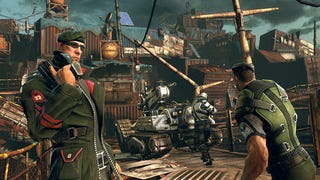 At PAX, I had the good fortune to catch Bethesda's Brink demo. While there was a lot of cool stuff in the game worth blogging about, what stuck with me was the use of torture in the game.
Of course, the game doesn't call it torture. I think the term they use is "extreme interrogation tactics." But when is something "interrogation" over "torture?" Is it just how badly you beat somebody up, or does it matter what you're trying to get out of the person/NPC?
In Brink, this is what happens: you're playing as a military operative in a futuristic setting. During a firefight, you sneak behind enemy lines and happen upon an injured rebel writhing on the ground. An option pops up, prompting you to press X to interrogate the guy and it looks like if you select it, your character pulls out an iPhone-iish device. Your character then shocks the heck out of the guy until he screams, "Okay! I'll talk!" Then your objective screen updates and a new icon appears on the map.
In the grand scheme of violence in video games, it's not graphic. It's actually similar to what happens to Snake in the first Metal Gear Solid when Revolver Ocelot has him strapped spread-eagle style and shocks him (as the player, you press buttons to Resist or Submit — Submitting kills Meryl and I couldn't hit that button fast enough). The difference in Brink is that my character is doing it to someone else. So on a gut level, I don't want to call it torture because I'm the "good guy," right?
But then there's the Punisher game with interactive torture. That's torture because I think the game goes so far as to call it so, but as a player I'm comfortable with it because I'm playing as the Punisher. Yeah, he fights for justice, but he's not what people would call a "good" guy. So it's okay for me as a player to play as him torturing somebody because that's what the Punisher would do — never mind what I would do. Besides, they were probably bad people who deserved it anyway.
Now think about Red Faction: Guerrilla where you're playing on the side of a rebel faction. Like Brink, it's a wartime situation and gaining information is crucial to the success of missions. In one scene, explored by Stephen Totilo, an NPC sidekick "interrogates" somebody for said information. With knives. Is that torture? If you're not sure, apply the same line of questioning to Killzone 2 when Rico gets a little "extreme" when interrogating an enemy.