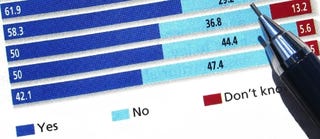 Our third installment of Approval Ratings covered a dozen questions regarding role-playing games, a staple genre of video games going back to their earliest days. And like an RPG, you have to dig a little deeper to get the real story.
1. Do you want to play Fallout 3? (any platform)

Yes: 72 percent (12,052 total responses)
No: 20 percent (3,393)
Not sure: 7 percent (1,207)
16,652 total responses.

2. Do you want to play The Elder Scrolls IV: Oblivion? (any platform)

Yes: 55 percent (8,756 total responses)
No: 36 percent (5,822)
Not sure: 9 percent (1,456)
16,034 total responses.

3. Do you want to play Fable II? (Xbox 360)

Yes: 51 percent (8,218 total responses)
No: 39 percent (6,243)
Not sure: 10 percent (1,565)
16,026 total responses.
Right out of the box we can see Kotaku readers are not hostile to role-playing games. All three here earned majorities with low not-sures, meaning respondents have heard of, considered and reacted to these games, and most like them. It helps, granted, that these are three of the biggest RPG names in console gaming, and that they were western produced. But had any of these come back with a No we'd know there's a serious disposition against this genre.
4. When it is released, do you want to play Final Fantasy XIII? (any platform)

Yes: 64 percent (10,584 total responses)
No: 23 percent (3,772)
Not sure: 13 percent (2,105)
16,461 total responses.

5. Do you want to play Dissidia: Final Fantasy? [PSP]

Yes: 35 percent (5,656 total responses)
No: 51 percent (8,208)
Not sure: 14 percent (2,276)
16,140 total responses.

6. Do you want to play Persona 4? (Shin Megami Tensei: Persona 4, for PS2)

Yes: 37 percent (5,986 total responses)
No: 47 percent (7,498)
Not sure: 16 percent (2,585)
16,069 total responses.
Final Fantasy XII's strong positive is likewise a no-brainer. And while most do not want to play Dissidia or Persona 4, I think their numbers are actually pretty damn strong considering what they have to overcome. Dissidia's a quasi fighter/RPG, and it's on the PSP, which a minority own and barely nobody claimed as their favorite platform. Persona 4 is on a previous-gen console only, and the franchise is fairly representative of the esoteric qualities of a JRPG. And a good third of the readership still wants to play both.