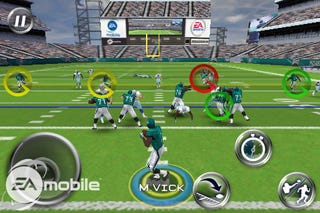 Well, well. Now we know why Gameloft was in such a hurry to get NFL 2010 for the iPhone out the door this month. EA Mobile says Madden NFL 10 will release to the iTunes store by opening day.
Although the news release says only "September 2009," (October '09 in the rest of the world), an accompanying email to Kotaku said the game would be available "in time for opening day on the App Store." That is Thursday, Sept. 10. No price was suggested in the news release.
EA let slip Madden - as well as FIFA - was in the works for the iPhone back in July, so this is not a total surprise. Today's announcement, however, certifies that Madden, at least, will be an actual football game, and not the adjunctive iPhone app for the management of your console season - a product already announced.