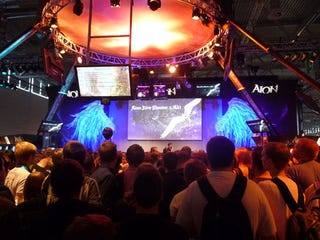 You've seen the best of what Gamescom's varied halls had to offer, now see the rest—the PC gaming focused Hall 9, where NCSoft, Razer and numerous MMO vendors set up shop, and Hall 8, featuring Nintendo.
Let's take a quick journey through Halls 8 and 9, far faster than one could do it during one of Gamescom's public days.
Not all of the PC case mods shown at the show were crazy and creative. Some were just green. Or small.